Udržujte svou kočku fyzicky i duševně fit. Pořiďte jí kočičí hlavolam
To, že kočky milují hru, ví snad každý. Jsou to ale také velmi chytří tvorové, a aby se nezačali nudit, potřebují zaměstnat nejen po fyzické, ale také po psychické stránce! Jak zabavit vaši kočku radí chovatelka thajských koček Jana Anastázie Kadlecová.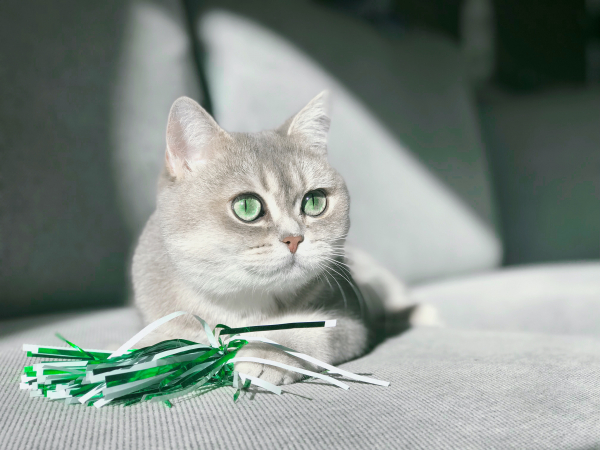 "Každá kočička potřebuje aktivitu, aby se nenudila a nezlobila. Když nemá k dispozici páníčka, mohou jej zastoupit interaktivní hračky," říká zkušená chovatelka Jana A. Kadlecová. 
Interaktivních hraček je více druhů. Stačí si vybrat!
První skupinu tvoří bludiště, překážky a hlavolamy, které jsou zaměřené na dovednosti při řešení problémů a pomáhají kočce vyvinout taktiku pro získávání potravy. V další skupině jsou pak olizovací podložky a zpomalovací krmítka, která zpomalují spotřebu potravy. A nakonec existují různé pamlskové míčky a reagující hračky, které nabízí kočce největší možnost fyzické aktivity, protože vyžadují, aby je honila a kutálela, a tím pádem imitovala lov. 
Kočičí hlavolamy pro chvíle nudy i společnou zábavu
Přestože kočky spoustu času proleží, ve zbytku času potřebují stimul, který je udržuje duševně i fyzicky fit, protože nuda u koček často spouští nežádoucí chování.
Pro kočku jsou ideální zejména takové hračky, které podpoří její hravost a zároveň stimulují také její lovecké instinkty. 
Zejména pro kočky žijící v bytě jsou tak vhodné kočičí hlavolamy. "Ty mohou být v jakékoli podobě a z nejrůznějšího materiálu. Principem je schování pamlsku nebo něčeho, co kočku v danou chvíli zajímá," vysvětluje Jana Anastázie Kadlecová. Kočka tak "loví" pamlsky ukryté uvnitř a to ji může zabavit během doby, kdy nejste doma. "Nejlepší je ale kočku ke hře motivovat, asistovat jí a dodávat sebevědomí při hledání a zdolávání hlavolamu. Kromě toho, že kočičku zabavíte, bude se prohlubovat i váš vzájemný vztah," radí chovatelka z Fancy Diamonds. 
Na co si dát pozor při výběru hlavolamu 
Na trhu se objevují nejčastěji hlavolamy vyrobené ze dřeva, plastů a také textilií. Z pohledu profesionální chovatelky jsou nejhygieničtější a nejbezpečnější plastové hračky, které se dají snadno vyčistit a kočka je nemůže jednoduše zničit. Právě na bezpečnost a hygienickou stránku by dle Jany Anastázie Kadlecové měli majitelé koček při výběru vhodného hlavolamu dbát nejvíce. Za nevhodné materiály se považuje papír a látka, které kočka rychle zničí, rozkouše a může sežrat. U dřeva je rizikem ošetření nevhodným lakem. 
"Trochu zruční majitelé by určitě zvládli vytvořit hračku například z ruliček od toaletního papíru, malých krabiček, kusu látky, ale z důvodu bezpečnosti bych moc nedoporučovala nechávat doma vyrobené hlavolamy s kočkou bez dozoru," dodává Kadlecová.