Základy přípravy na výcvik obrany z hlediska fyzioterapie
My lidé se o svá těla a o své zdraví staráme. Když nás bolí koleno, jdeme k ortopedovi, pokud nás dlouho bolí záda, pravděpodobně začneme uvažovat o fyzioterapii. Nutnost pravidelných prohlídek stoupá s mírou sportovní zátěže. Podobně je tomu u psů, a zejména pak u těch, kteří se věnují výcviku obrany. Jak probíhá psí fyzioterapie, kdy je dobré o ní uvažovat a v čem všem může psovi pomoci? Na to jsme se ptali figuranta Jana Böhma.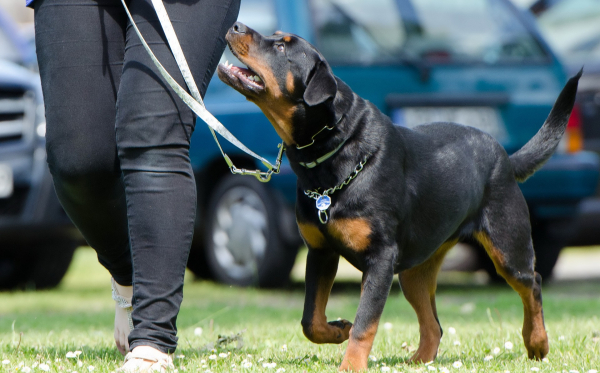 Která část těla psa je při výcviku obrany nejvíce namáhaná?
Určitě je to páteř, protože pes je většinu času zavěšený na rukávu, a tak celá jeho váha a nápor jdou od krčních obratlů přes hrudní až po bederní. Celá páteř tím dostává hodně zabrat. Tento problém je markantnější u rychlých psů.
Jak moc je důležité správné provedení cviků u obrany? 
Velmi. Zejména proto, že se pes může při výcviku velmi jednoduše zranit. Základem je, aby byl rozhýbaný, zahřátý a byl naučený správně technicky chodit do zákroků. Někteří psi se na výcviku chovají jako nezničitelní, jsou velmi tvrdí a nedávají najevo bolest. V takových případech je velmi důležité vybalancovat rychlost, chtíč, techniku a bezpečnost. Pro výcvik je nutné vyhledat někoho, kdo má určité zkušenosti. Pokud navíc máte rychlého a talentovaného psa, je tato potřeba ještě o něco větší. 
Měl by pes, který podstupuje výcvik obrany, navštěvovat fyzioterapeuta?
Určitě to doporučuji. Základem totiž je, aby byl pes nejen v dobré fyzické kondici, ale aby byl i dobře protažený a osvalený. Je to obdobné jako u lidí. My se také se staráme o své tělo. Někteří z nás chodí na masáže, jiní věnují volný čas sportu a následně i strečinku. Každému sice vyhovuje něco jiného, ale pečovat bychom o sebe měli všichni. A tak je to i u psů.
Jaká mohou vzniknout zranění při nesprávném provádění úkonů?
Nejčastěji jsem se setkal právě se zraněním páteře. Časté jsou ale i vyhozené obratle, vykloubená kolena, zranění loketního kloubu, nalomené zápěstní kůstky či natržené svalové úpony. Po srážce s figurantem jsem viděl i zlomená žebra a hodně často dochází i k naražení hrudní kosti. 
Jaké jsou hlavní chyby v úkonech a provádění cviků, které mají vliv na pohybový aparát psa?
Častou chybou je nedostatečné zahřátí psa před tréninkem, obdobně vážným problémem je i například špatně osvalený pes, který nemá dobrý a pravidelný trénink a na obranu jde jen jednou za čas. Přirovnat to můžeme k situaci, když člověk lyžuje jednou za rok a hned sjíždí černou sjezdovku v Alpách. Pes zároveň musí mít dostatek pohybu i mimo obrany. Důležitý je i pravidelný přísun kvalitního krmiva, ve kterém nesmí chybět dostatek proteinu pro dobrou regeneraci. Současně se nesmí podcenit zdraví psa, tedy pravidelné kontroly a v dospělosti rentgeny celého těla, zejména před tím, než se začnou provádět náročné tréninky.
Liší se nutnost fyzioterapie v závislosti na plemeni? Například potřebují velká plemena napravit jiné problémy než plemena menší? Je pro velká plemena nutnost návštěvy fyzioterapie více nutná než pro plemena malá?
Každé plemeno má svoje. Menší pes méně váží, ale je třeba zase rychlejší. Velký pes není tak rychlý, ale zato ho stojí více sil držet se kvůli své váze. Na druhou stranu to samozřejmě může být i naopak. Ve výsledku je nejdůležitější jeden společný prvek, a sice že psi musí být ve formě a bez bolesti. 
Jak probíhá fyzioterapie psa?
Podobně jako u člověka. Používají se často různé pomůcky jako například gumové masážní míčky nebo sportovně balanční nářadí – třeba bosu. Dobrého fyzioterapeuta poznáte především podle výsledků: psovi uleví od bolesti, zvíře pak bude dobře dýchat a bude spokojené. 
Měl by na fyzioterapii docházet i pes, který se výcviku obrany nevěnuje?
Myslím, že někdy ani nevíte, co psa bolí a co si kde udělal, takže fyzioterapii určitě doporučuji. Někdy jste překvapeni, jaké problémy se v psím těle najdou, a když ne, tak jste si alespoň jistí, že je v pořádku.