Setkání s vlkem ve volné přírodě: Jak si v takové situaci poradit?
Vlci patří do řádu šelem a myšlenka na setkání s nimi ve volné přírodě může děsit mnoho z nás. Je proto poměrně překvapující, že vlci jsou velmi plachá a ostražitá zvířata, která se budou snažit kontaktu s člověkem vyhnout za každou cenu. Tím spíš, pokud s sebou má psa. O tom, jak moc je setkání s vlkem reálné a jak se v takové situaci případně zachovat, jsme si povídali s jejich chovatelem, Jiřím Andrlem.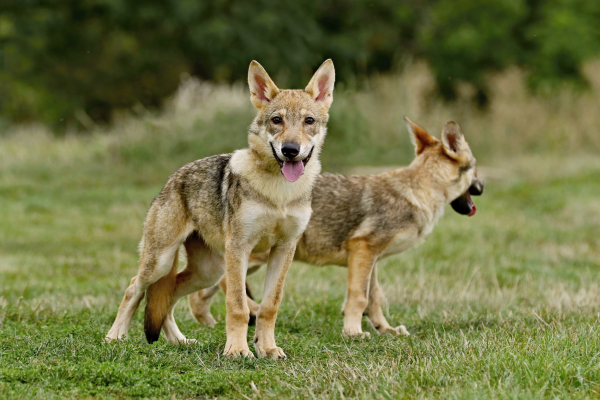 Kde se v současné době můžeme setkat s vlky ve volné přírodě?
Vlci se na našem území v současné době vyskytují především na Šumavě a potom na severu území, například na Českolipsku. Počet smeček se liší, někde jsou dvě, někde jenom jedna.
Pokud při procházce v lese na vlka narazíme, jak bychom se měli zachovat?
Potkat se s vlky není vůbec jednoduché. Jsou to velmi plachá zvířata, která se lidí bojí mnohem víc. Pokud se člověkem nebude cítit ohrožený nebo se nedostane do úzkých, od lidí uteče. Při setkání je tedy nejlepší pokračovat v chůzi a vlka si nevšímat. Vlk člověka nenapadne, žádné takové případy nejsou známé, rozhodně ne v Evropě.
Existují zaručené rady, jak se vlkům vyhnout?
Žádné rady ani moc nejsou potřeba, vlci jsou opravdu plachá zvířata a potkat je nebo spatřit ve volné přírodě, je velmi vzácné. Navíc jsou to zvířata šerosvitu a většinu dne prospí. Dokonce i odborníci, kteří po nich pátrají, využívají fotopasti, jelikož spatřit je lidským okem je obtížné. Nejlepší radou je tedy nedat vlkům pocit nebezpečí a v klidu pokračovat v procházce.
Je reálný strach, že se vlci přiblíží k vesnicím nebo městským obydlím?
Vůbec ne, vlci se budou vyhýbat všem místům, kde cítí člověka. K zahradám a domovům by se přiblížili jen v případě, že by zmerčili fenu, pokud by ale vycítili psa, tedy samce, nebo člověka, stáhnou se zpět. Výjimkou by mohli být pouze vlci, kteří jsou křížení se psem, čistokrevní vlci jsou ovšem tak plachá zvířata, že jdou vždy jen po nejlehčí kořisti. Bát se útoků na vesnice je tedy bezpředmětné a budování ohrad a plotů okolo zastavěných částí je k ničemu už jen proto, že by takové zátarasy vlci hravě přeskočili a překonali. Jak ale říkám, brání jim v tom především jejich vlastní strach.
Je dobrý nápad zkusit vlky krmit? Plyne z toho pro lidi nějaké riziko?
Dobrý nápad to rozhodně není, i v tomto případě by se lidé měli držet pravidla, že cizí zvířata by se v žádném případě neměla krmit. Divocí vlci by si navíc ani žádné krmení od nikoho cizího nevzali, jsou totiž velmi ostražití a chytří.
Je možné určit, kdy je vyšší pravděpodobnost vlka v přírodě spatřit?
Vlci se pohybují zejména za šera, tedy velmi brzy ráno nebo pozdě večer. Jak jsem ale říkal, spatřit ho pouhým lidským okem je velmi obtížné, jsou plaší a mají skvělý čich, jakmile vycítí člověka, ještě navíc pokud má s sebou psa, utečou.
Jakou reakci je možné očekávat, pokud na vlka narazíme při procházce se psem?
Nejpravděpodobnější reakcí je útěk, pokud však jde člověk s fenou, která hárá, mohlo by se stát, že se k ní bude přibližovat. Stále by však měl strach z člověka, který je s fenou, a tak by s největší pravděpodobností k žádnému kontaktu nedošlo.
Pokud se ve volné přírodě s vlkem setkáme, je nutné setkání někde hlásit, i když nedojde k žádné nehodě?
Povinnost to rozhodně není, některým organizacím nebo ochranářům to ale může pomoci, ačkoliv většina z nich má o pohybu všech smeček samozřejmě dobrý přehled. Detailně evidované mají i vlky, kteří jsou chovaní v zajetí, a to i přes to, že se jedná už o několikátou odchovanou generaci vlků, kteří jsou na lidi zvyklí do takové míry, že jsou z části povahově psi a své majitele berou jako členy smečky.